Signed MOU with Aramco for Modular Manufacturing
페이지 정보
Writer

admin

작성일

21-10-01 16:25 View667 Comment0
본문
Dhahran, September 07, 2021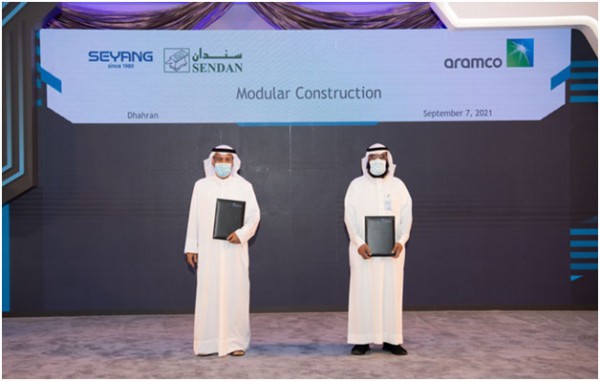 Jamil Bagawi, Vice President, National Champions, Aramco (Right), Abdullah Al Haddad, Chairman & Founder, Sendan International
SEYANG Corporation, a modular process skid design and manufacturing company, and SENDAN International, a construction, maintenance and manufacturing company, recently signed a Memorandum of Understanding (MoU) with Aramco at Aramco's Namaat Industrial Investment Program (IIP) launch event in Dhahran on September 7.
Through this MoU, the parties intend to explore the feasibility of establishing a local module fabrication and construction yard in Saudi Arabia.
SEYANG Corporation is an approved vendor of Aramco
SEYANG Corporation is an approved vendor of Aramco. SENDAN Industrial is a subsidiary of SENDAN International Co. Ltd., which has construction, maintenance and manufacturing businesses in Saudi Arabia.
The joint venture (JV) between SEYANG Corp. & SENDAN Industrial has been focusing on "Made in KSA," in line with iktva and IIP of Aramco, by developing its plan to establish a design and manufacturing facility for modular process skids. The integrated complex would house all major manufacturing processes under one roof. It is expected to be on 85,000 M2 of land secured in the Industrial Park of Jubail Industrial city, administered under the Royal Commission of Jubail & Yanbu. Initially the JV would target local demand, especially from oil & gas and petrochemical industries, and subsequently expand its market to GCC, Asia, Africa, and South America.
Kang-Joon Lee, President & CEO of SEYANG Corp., explained the significance of this MoU, saying: "The JV will create hundreds of meaningful jobs by nurturing local young talents through technology transfer for local engineering."
Heon-Jae Yim, CEO of SENDAN International, said: "The local Module Fabrication & Construction Yard is in line with Aramco's Onshore Modularization Initiative and it will fully support the coming mega projects by ensuring its successful construction completion."
It is hoped that this collaboration between the JV and Aramco will shorten the up-coming mega projects schedule while creating local jobs and contributing to the social & economic growth of the Kingdom of Saudi Arabia.
About Aramco's Namaat program
Namaat Program aims to tap into the vast opportunities available in Saudi Arabia to create new value and drive economic expansion and diversification.  Aramco's expansion to its industrial investment program (Aramco Namaat), focused on capacity building in four key sectors: sustainability, technology, industrial, and advanced materials.
About SEYANG Corporation
Established in 1980, SEYANG Corporation is a Korean enterprise with global experience in the process knowledge & technology for the design and execution of the modular skid packages, and the market for the design & supply of air dryer, gas dehydration, and nitrogen generation skid packages.
More information about SEYANG Corporation can be found at: http://www.seyangcorp.co.kr/
About SENDAN International
SENDAN International is a Saudi Arabian company, having long industry experience of more than three decades in the engineering, construction and maintenance of industrial plants in the oil & gas, petrochemical, water & power sectors.
More information about SENDAN International can be found at: https://sendan.com.sa/
List of Comment
There is no registered comment.